In this edition:
Majority Now Say Homosexual & Lesbian Sex, Unwed Births Are Now Morally OK
Pope Admits Homosexual Lobby Exists in Vatican
Islamists Tell the Truth When They Think Western Eyes Aren't Watching
Episcopal Leader Claims The Apostle Paul's Curing Of A Demon Possessed Girl Was Wrong
Girl Scouts of Britain Replace 'God' with 'Myself' in Oath
Rising Red tide: China encircles U.S. by sailing warships in American waters, arming neighbors
The Palestinian Jesus
What's Going On In Turkey and How Does It Figure Into Prophesy?
Majority Now Say Homosexual & Lesbian Sex, Unwed Births Are Now
Morally OK
Christian Post Reporter
May 21, 2013
A Gallup poll shows that a majority of Americans now  believe that sexual relations between two men or two women, and unmarried women  having a baby, are morally acceptable.
In the new survey, 59 percent of American adults answered that gay or lesbian  relations are morally acceptable, a 19 percentage point increase since 2001 when  only 40 percent said it was morally acceptable.
Sixty percent of respondents said that having a baby outside of marriage was  morally acceptable, a 15 percentage point increase since 2002 when only 45  percent said it was morally acceptable.
Of the 20 issues which Gallup asked about their moral acceptability, same-sex  sexual relations and unwed pregnancies saw the greatest increases. They were  also the only issues which changed from a minority to a majority of the country  finding them morally acceptable over the past decade.
The other large increases in moral acceptability were: sex between an  unmarried man and woman went from 53 to 63 percent, divorce went from 59 to 63  percent, and medical research using stem cells from human embryos went from 52  to 60 percent.
The only large decline in moral acceptability was for medical testing on  animals, which went from 65 to 56 percent.
The moral acceptability of abortion remained the same as it was in 2001, at  42 percent. There was little change in the moral acceptability of pornography  (31 percent), gambling (64 percent), buying and wearing clothing made of animal  fur (59 percent), and the death penalty (62 percent).
At six percent, married men and women having an affair had the lowest number  of those saying it was morally acceptable.
The May 2-7 poll of 1,535 adults has a plus or minus three percentage point  margin of error.
Pope Admits Homosexual Lobby Exists in Vatican
            Tuesday, 11 Jun 2013
Newsmax
By Edward  Pentin
                         Pope Francis has acknowledged the existence of a "gay lobby"  in the Vatican and says he is consulting advisers on what to do about  it.
Speaking informally to a confederation of religious groups from  Latin America and the Caribbean, he said: "In the Curia, there are also holy  people, really, there are holy people."
But, he added: "There also is a  stream of corruption, there is that as well, it is true… The 'gay lobby' is  mentioned, and it is true, it is there… We need to see what we can  do."
Urgent: 
Should the Pope  change the Catholic Church?
The Pope's words,
reported on the Rorate Caeli website
, follow the  completion of a secret report on the leaking of Vatican documents. The  commission report, led by three retired cardinals, was presented earlier this  year to Benedict XVI and Francis.
The contents of the dossier are  unknown, but it's thought to implicate a small number of Vatican officials in  "gay lobby" activity as well as some financial malpractice.
Rumors  over the existence of such a group in the Vatican have circulated for years and  the extent of the problem is thought to have partly influenced Benedict to  resign. But until now, successive popes never have publicly acknowledged  it.
Some Catholics believe such a lobby pervades much of the Church in  the West, weakening its proclamation of the Gospel and compromising the Church's  integrity and authority.
They also blame bishops for not speaking out  more forcefully against such groups.
Pope Francis did not say how he  would tackle such a lobby in the Curia, the church's central government. But  during the June 6 meeting with the Latin American and Caribbean group he raised  the subject of reforming the Vatican — something, he said, that "almost all  Cardinals asked for" in the meetings leading up to the conclave that selected  him as Pope in March.
"I also asked for it," he said. "I cannot promote  the reform myself — [on] these matters of administration I am very disorganized,  I have never been good at this — but the cardinals of the Commission will move  it forward."
He asked those present to pray for him "that I make  mistakes the least possible."
One of Francis' first acts as Pope was to  create a commission of eight cardinals who will help him on Church governance  including curial reform. The commission is to meet for the first time in  October, although Francis already is consulting them and others.
Informed Vatican sources tell Newsmax that Francis has been holding a series of  brainstorming sessions with Vatican-based cardinals and other senior Vatican  officials on how to reform the Curia.
Islamists Tell the Truth When They Think Western Eyes Aren't Watching
23 May 2013
If you want to keep up on what's going in the Middle East, and what Islamists really think, MEMRI-TV is an excellent resource for accomplishing both.
MEMRI, which stands for the "Middle East Media Research Institute," monitors Arab, Iranian, and Turkish media, schoolbooks, and sermons. MEMRI then translates them into English so we can know exactly what is being said in those cultures—unfettered by our gutless politicians and leftists media so punch-drunk on political correctness they feel the need to cover for those who wish us harm.
One of MEMRI''s recent clips definitely is worth watching. It features an April 1st talk given by former Jordanian Prime Minister Abdelraouf Al-Rawabdeh, who served from 1999-2000 and graduated from the American University in Beirut (Lebanon).
To fully understand the context of what that means, consider the American University in Beirut was originally founded by American Christian missionaries in 1866, U.S.-Jordanian relations have been close since King Abdullah II ascended to the throne in 1999, and U.S. taxpayers have provided at least $13 billion in foreign aid to Jordan as well.
In other words, American taxpayers both educated and put food on the table for the likes of Al-Rawabdeh. That means we've been pretty good to Al-Rawabdeh and his ilk if you ask me. In fact, many of us went to work to pay for our own food and education so that our tax dollars could take care of the Al-Rawabdehs of the world.
Explaining to a friendly audience why he and his fellow Islamist politicians often say one thing to the people at home when they don't think the West is watching, and then are all smiles for the Western cameras when they know we are, Al-Rawabdeh said the following:
The preacher speaking from the pulpit, the philosopher, the politician, the university professor, the school teacher – they are all attuned to the conscience of the nation. Listen carefully to what I am saying. They are attuned to the conscience of the nation, and they are true to what they believe in, but they are not responsible for its implementation.

A preacher stands up in his pulpit and says 'we must confront America the spearhead of heresy.' Fine. What does he want us to do about it? He doesn't say. Along comes the politician, whose job it is to understand the local, regional, and international balance of power, and he talks only about what he can accomplish.

Once, when I was running for office, someone tried to give me a hard time. He approached me and asked: "What do you think about America?" I asked him: "Are you asking me as a politician or as a candidate?"

He said he was asking me as a candidate. So I said "America is an enemy state, which provides weapons to Israel, kills our Palestinian people, controls our Arab countries, expropriates our oil, and destroys our economy."

So he was pleased, but then he said: "And as a politician?" I said: "America is our friend. It stands by us and provides us with aid."

(Crowd cheers and laughs)

He said: "Don't you see that as a moral contradiction?" "No," I said. "I say that America is an enemy in order to appease you, and I say it as a friend in order to get you food. Which one do you prefer?"

(Crowd cheers and laughs again)
Translation: When stupid American politicians are willing to confiscate the wealth of their own people to prop us up, we'll wink and nod to go along to get along. But when push comes to shove, don't believe the propaganda, we hate America every bit as much as you do.
In the West we have a saying: "never look a gift-horse in the mouth." I don't know about you, but I'm not exactly feeling warm and fuzzy about seeing my prosperity redistributed to people that hate us no matter how much we pay them not to.
What about you?
Episcopal Leader Claims The Apostle Paul's Curing Of A Demon Possessed
Girl Was Wrong
Christian Post Reporter
May 23, 2013
The head of the Episcopal Church has garnered outrage from some  in the Anglican Communion over her claim that St. Paul of Tarsus' curing of a  demon-possessed slave girl as described in the Bible was wrong.
In a sermon delivered before the Diocese of Venezuela on the island nation of Curaçao, Presiding Bishop The Most Rev.  Katharine Jefferts Schori said that by driving the demon out of her Paul was  "depriving her of her gift of spiritual awareness."
"Paul is annoyed, perhaps for being put in his place, and he responds by  depriving her of her gift of spiritual awareness," said Jefferts Schori.
"Paul can't abide something he won't see as beautiful or holy, so he tries to  destroy it. It gets him thrown in prison. That's pretty much where he's put  himself by his own refusal to recognize that she, too, shares in God's nature,  just as much as he does – maybe more so!"
The passage that Jefferts Schori was preaching can be found in the Book of  Acts, chapter 16. The chapter provides an account of some of the mission Paul of  Tarsus did in the early church.
In the incident described in Acts 16, Paul cures a slave girl of a demon that  had given the girl the ability to fortune-tell and made money for her  masters.
Read more at http://www.christianpost.com/news/episcopal-leader-claims-st-paul-of-tarsus-curing-of-demon-possessed-girl-was-wrong-96465/#u2uVwZoK3uuxJHWf.99
Upon doing so, the girl's masters proceeded to drag Paul and his companion Silas before  the authorities, who proceeded to throw them into prison.
Jefferts Schori's message, delivered last week, has garnered many negative  responses online, including an entry by George Conger on the website "Anglican  Ink" and also in the comments section of the copy of the sermon on the Episcopal  Digital Network.
"Paul cast a demon out of the slave girl, an agent of Satan, a force of  darkness, and didn't deprive her of some spiritual gift…this sermon is not a  Christian sermon," posted Fr. Will McQueen.
"It is terribly stunning to read that the Presiding Bishop elevates the  sinful practice of necromancy to the Holy Spirit inspired territory of spiritual  gifts. This is eisegesis of a demonic sort," posted Fr. Trent Overman.
"How can the Presiding Bishop miss the point that the woman was exploited-  the slave woman was in physical, spiritual and relational bondage – she was  being used for profit and her incessant shouting was disruptive and insincere,"  posted a user doting the name "BabyBlue."
Charlie Jackson, a poster who identified himself as "a pretty theologically  liberal Episcopalian", nevertheless concluded that Jefferts Schori's  interpretation of Acts 16 "is just too much."
Jeff Walton, Anglican program director at the Institute on Religion &  Democracy, told The Christian Post that the Presiding Bishop "has a long record  of first establishing theopolitical positions and then conforming scripture to  align with her predetermined purpose."
"Earlier this month at a church event focused on climate change, she outlined  her view that those who disagree with her climate activism are denying the image  of God in creation, much as the heresy of Arianism denied the unique divinity of  Jesus Christ," said Walton.
"This habit of making political opponents into spiritual enemies is something  that the religious right has been accused of — yet Jefferts Schori, a figure on  the left, is doing exactly this."
The Episcopal Church did not return comment to The Christian Post about the  controversy over Rev. Katharine Jefferts Schori's sermon by press time.
 Girl Scouts of Britain Replace 'God' with 'Myself' in Oath
20 June 2013
On Wednesday, Great Britain's Girl Guides (their equivalent of U.S. Girl Scouts) and Brownies removed God from their 103-year-old oath.
Instead of the passage where they used to promise to "love God," they will now vow to be true to "myself" and develop "my beliefs." The organization said the move is intended to attract girls from secular families.
Andrea Minichiello Williams, CEO of Christian Concern, condemned the move, saying, "These values have their roots in a Christian outlook. Taking 'God' out of the promise denies the history and foundations of the movement without offering anything in its place, with the result that the organization will lose its distinctive ethos and end up meaning nothing."
Chief Guide Gill Slocombe protested that the organization consulted 40,000 before it made the change. She said that using God in the pledge "discouraged some girls and volunteers from joining," and now the Guides could "reach out to girls and women who might not have considered guiding before, so that even more girls can benefit from everything guiding can offer."
Julie Bentley, the new CEO of the Guides, has called the Girl Guides the "ultimate feminist organization."
The Girl Guides in Australia also deleted God from the vow last year. The Boy Scouts in Great Britain are considering a similar move next month.
Girl Scouts and Boy Scouts in the United States still vow to "to serve God and my country."
For how long?
Rising Red tide: China encircles U.S. by sailing warships in American
waters, arming neighbors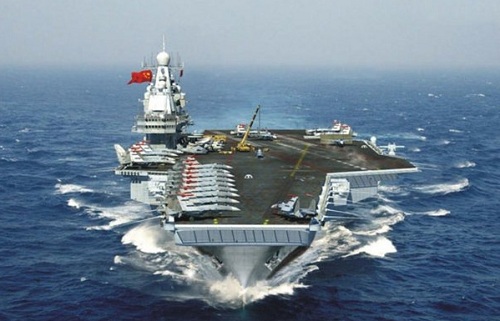 By Bill Gertz
The Washington Free Beacon
Friday, June 7, 2013
China has been quietly taking steps to encircle the United States by arming  western hemisphere states, seeking closer military, economic
, and  diplomatic ties to U.S. neighbors, and sailing warships into U.S. maritime  zones.
The strategy is a Chinese version of what Beijing has charged is a U.S.  strategy designed to encircle and "contain" China. It is also directed at  countering the Obama administration's new strategy called the pivot to Asia. The  pivot calls for closer economic, diplomatic, and military
ties to  Asian states that are increasingly concerned about Chinese encroachment  throughout that region.
"The Chinese are deftly parrying our 'Pivot to the Pacific' with their own  elegant countermoves," said John Tkacik, a former State Department Asia  hand.
Chinese President Xi Jinping is expected to question President Barack Obama  about the U.S. pivot during  the summit meeting set to begin Friday afternoon in California. Chinese  state-run media have denounced the new U.S. policy as an effort to "contain"  China and limit its growing power
.
The Chinese strategy is highlighted by Xi's current visit to Trinidad, Costa  Rica, and Mexico where he announced major loans of hundreds of millions of  dollars that analysts say is part of buying influence in the hemisphere.
U.S. officials say the visit to the region has several objectives, including  seeking to bolster Chinese arms sales to the region amid efforts by Russian arms  dealers to steal market
share.
The fruits of the so-called free trade agreement and the exodus of U.S. manufacturing making Communist Red China one of the strongest and richest nations on earth. We did it. Americans. All those Wal-Mart and American shoppers who do not think twice about buying something made in China, and trillions of U.S. dollars blindly, foolishly flowing into Communist Red China.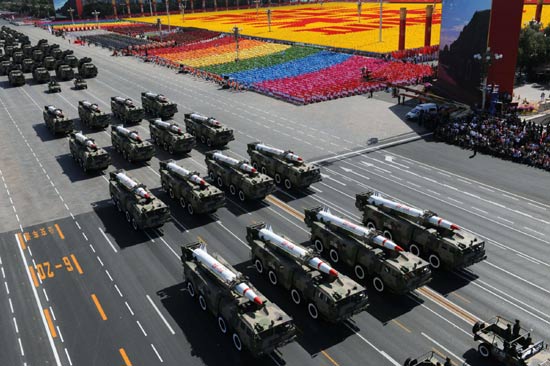 States including Venezuela, Ecuador, Bolivia, and Mexico recently purchased  Chinese arms but are said to be unhappy with the arms' low quality. For example,  Chinese YLC radar sold to Ecuador in 2009 did not work properly and sales of  Chinese tanks to Peru also ran into quality problems. Both states are now  looking to buy
Russian  weaponry, a U.S. official said.
Venezuela, a key oil-producing U.S. adversary, announced Thursday that China  agreed to a $4 billion loan for oil development.
And in Mexico this week, Xi announced China is extending a $1 billion line  of credit
for oil  development and pledged another $1 billion trade deal.
A joint Mexico-China statement said Mexico pledged not to interfere in  China's affairs on Taiwan and Tibet, a reference to the previous government of  Mexican President Felipe Calderon who in 2011 invited exiled Tibetan leader the  Dalia Lama, a move that angered Beijing.
U.S. officials say there are concerns that the pro-Beijing shift by the  current government of Mexican President Enrique Pena Nieto, who visited China in  April, will be exploited by China for such political goals, and could be used to  generate support for China's claims to Japan's Senkaku Islands.
U.S. officials said there are growing fears that some  type of military confrontation could break out between China and Japan over  the disputed islands that are said to contain large underwater gas and oil  reserves.
North of the U.S. border, Canada this week concluded a military cooperation  agreement with China during the visit to Beijing by Canadian Defense Minister  Peter G. Mackay. The agreement calls for closer cooperation between the two  militaries, including bilateral military exchanges.
Chinese ambassador to Canada Zhang Junsai said China is deepening ties to  Canada for infrastructure development, in Calgary last month. Chinese state-run  companies have spent $30 billion for Canadian oil sands and natural gas, he  said.
At a security conference in Singapore last month, the commander of U.S.  military forces in the Pacific, Adm. Samuel Locklear, confirmed the earlier  disclosure by a Chinese military officer that China's military has been  conducting naval incursions into the 200-mile U.S. Economic Exclusion Zone  around U.S. territory.
The locations of the incursions were not given but they likely included  submarine or warship visits to the western Pacific island of Guam, a key U.S.  military base.
A Chinese military official initially stated at the conference that the  incursions were part of a People's Liberation Army Navy effort at  "reciprocating" for frequent U.S. Navy transits through China's 200-mile EEZs  along the coasts. The zones are technically international waters and China has  claimed U.S. transits are "illegal" under international law.
It is not clear why China is conducting naval operations it considers illegal  for its maritime boundaries inside U.S. EEZs.
"They are, and we encourage their ability to do that," Locklear said, without  explaining why the activity was encouraged or where the Chinese vessels had  transited.
Larry Wortzel, a former military intelligence official and specialist on  China, said the Chinese military has sent intelligence collection ships into  Guam's economic
zone and  also the zone around the Hawaiian islands.
"The EEZ transits may indicate that in the  future
they could  revise their position on the Law of the Sea and military activities," Wortzel  said.
Wortzel said he does not see China's efforts in South and Central America as  a counter to the U.S. Asia pivot.
Chinese arms sales, military exchanges, investment and developmenet has been  underway for a decade, he said.
The Financial Times, which first disclosed the Chinese EEZ  forays, quoted one Chinese military source as saying, "we are considering this  as a practice, and we have tried it out, but we clearly don't have the capacity  to do this all the time like the U.S. does here."
On Chinese inroads in the western hemisphere, Rick Fisher, a China military  affairs analyst
, said China  is moving strategically on Latin America, working methodically as part of a  decades-long effort to build economic and political clout there.
"It has cultivated far better military relations with the openly  anti-American regimes in the region and could become a sort of  political-economic godfather to ensure the survival of the Castro dictatorship  system in Cuba," said Fisher, with the International Assessment and Strategy  Center.
Intelligence cooperation with Cuba is "substantial," Fisher says, and will  expand sharply in the region through the activities of its state-run  telecommunications firms such as Huawei Technologies
and ZTE  in the region.
China currently is "promoting almost all of its non-nuclear weapons in that  region," Fisher said.
"It has promoted the Chengdu J-10 4th generation fighter in Venezuela and  Argentina, and even Peru may be considering the J-10 for its future
fighter  program," he said.
A State Department spokeswoman declined to comment.
At a recent arms expo in Peru, China was selling a 22,000-ton helicopter  amphibious assault ship and an export version of its relatively advanced  Yuan-class attack submarine.
In Venezuela, China is helping the Caracas government circumvent U.S. arms  embargoes by helping repair Venezuela's U.S.-made gas turbine engines on  frigates, he said.
"Another company was marketing several short range ballistic missiles—with no  apparent consideration about how it might promote a regional missile arms race,"  Fisher said. "The basic U.S. policy is to 'welcome' China's growing influence in  Latin America but it is now time for Washington to use both positive and  negative pressures to limit China's strategic military reach into this  hemisphere."
Tkacik said China is quietly evolving on the global stage and implanting  itself across the map with major overseas Chinese communities.
"And if they [Chinese nationals] get in trouble, as they did in Libya in  2011, China's navy and air forces can coordinate to support them," he said.  "This support of émigré Chinese communities around the world has become an overt  dictum of China's new security policy."
China also has set up commercial bases in key chokepoints around the  Caribbean, through its Chinese-run port facilities in Panama, Bahamas, Trinidad,  and Venezuela over the past decade.
Tkacik said those facilities are partly aimed at drawing American attention  and easing U.S. geopolitical pressure in Asia.
China also is investing heavily in Africa, the Middle East, and Indian Ocean  region.
"At bottom, however, China's strategic targets are closer to home: East Asia,  Southeast Asia and the Pacific," Tkacik said. "That's why Washington's Pivot to  the Pacific unsettles Beijing so.  It threatens to check Beijing's rising  new influence in the Asia-Pacific.
Tkacik said Chinese naval patrols in U.S. economic zones have been carried  out for years through Chinese ocean fishing fleets.
"It doesn't need to send out military vessels to Guam or Hawaii or the  Aleutians except to 'tweak' the U.S.," he said.
The Palestinian Jesus
The Balfour Post
Did you know Jesus was a Palestinian? Neither did he. That hasn't stopped the enemies of the Christians' Prince of Peace from attempting to use him for diabolical political purposes.
What began as a clever propaganda ploy by Yasser Arafat—as part of his lifelong attempt to erase Jewish history—has been picked up by American evangelicals. That Jesus of Nazareth was born and lived as a Jew is an obvious historical fact, just as, for example, Robert E. Lee commanding the Army of Northern Virginia during the Civil War. The background of Jesus Christ, however, inarguably the most famous person in history, is of great importance. His life as a Jew is increasingly being called into question by Muslims, who are working overtime to open "interfaith dialogue" channels with American Christian leaders.
The revisionists originally were the usual suspects: Arafat, mainline church scholars, media types. But now this revisionist history has burrowed-into the American evangelical community.
Incredibly.
In February, 2000, popular author Philip Yancey referred to Jesus as a "Palestinian rabbi" in the pages of Christianity Today.
Ed Stetzer, president of research at LifeWay—the resource arm of the Southern Baptist Convention—referred to Jesus as a "Palestinian Jew" in a September 12, 2011 blog post entitled "Monday is for Missiology: Some Thoughts on Contextualization."
In a banner above his May 9, 2012 blog post, "Solidarity Fast With Palestinians?" Assemblies of God minister and Palmer Theological Seminary Professor Paul Alexander referred to Jesus as "the Palestinian Jew." Alexander, professor of Christian Ethics and Public Policy at Palmer (the seminary of Eastern University) has long advocated for the Palestinians.
Knowingly or unknowingly, some evangelical leaders are advancing a false narrative concocted by the likes of Arafat and the PLO.
According to Palestinian Media Watch:
"Rewriting the history of the Land of Israel in order to deny Israel's right to exist is central to Palestinian Authority (PA) policy. Long before it started the PA terror campaign (the 'Intifada,' 2000-2005), the PA was fighting a history war – erasing Jewish history and replacing it with a fabricated Palestinian history.
"Erasing Jewish history in the land of Israel is followed by the PA's invention of ancient and modern histories that support its political ideology and claim to the land of Israel. The Holocaust and other aspects of Jewish history are alternately denied, downplayed or distorted. Another distortion is to hide from Palestinians that Jesus was a Jew who lived in the Land of Judea/Israel. PA leaders repeatedly define Jesus as a Palestinian who preached Islam, thus denying not only Jewish history, but also the history and legitimacy of Christianity."
In an op-ed (titled "The Resurrection of Jesus, the Resurrection of the State") for Al-Hayat Al-Jadida, dated May 6, 2013, writer Adel Abd Al-Rahman stated:
"Easter… is not a holiday for Christian Palestinians only but a holiday for Palestinian nationalism, because Jesus, may he rest in peace, is a Canaanite Palestinian. His resurrection, three days after being crucified and killed by the Jews – as reported in the New Testament – reflects the Palestinian narrative, which struggles against the descendants of modern Zionist Judaism, in its new colonialist form, that conspires with the Western capitalists who claim to belong to Christianity.
"Jesus, may he rest in peace, the virtuous patriotic Palestinian forefather, who renewed the Old Testament, split away from its followers, brought forth his New Testament and spread it among mankind – which led the Jews to persecute him until they caught him, crucified him and murdered him. Afterwards, he rose from the dead like the phoenix and set out to spread his teachings that still exist and will exist as long as mankind exists.
"Jesus' story is his [Palestinian] people's story; the Zionist movement – tool of the capitalist West – wanted to falsify historical facts, to exile and crucify the Palestinian Arab nation and then murder it by means of ethnic cleansing… But the Palestinians, Jesus' descendants, rose from the ashes, like the phoenix, from the ruins of the Nakba (i.e., 'the catastrophe,' the Palestinian term for the establishment of the State of Israel) and the Naksa (i.e., 'the setback,' Palestinian term for Israel's victory in the Six Day War.) They dressed their wounds and raised the flag of nationality again by founding parties and factions…
"Easter is a distinct [Palestinian] national holiday which doesn't concern only Christians but rather all Palestinians believing in the different religions – Islam, Christianity and Judaism."
Though the above narrative is false, "Jesus as Palestinian" is gaining traction within American Evangelicalism. Mark Tooley of the Institute on Religion and Democracy, has seen it before:
"Claims that Jesus was 'Palestinian' are common in anti-Israel circles but are not rooted in history.  The area where Jesus lived was not named by the Romans as Palestine until the second century.  Jesus was born and lived on earth as a Jew.  He would not have known His land as 'Palestine.'  Evangelicals should shun this effort to delegitimize the millennia-long Jewish history with the land called Israel."
Some do not and in a December 22, 2011 article for Relevant magazine, Wheaton College student Andrew Haas revealed just how far classic PLO propaganda has infiltrated evangelicalism:
A cartoon depicting the Three Wise Men unable to enter Bethlehem due to Israel's security fence.
"Had Jesus been born in Bethlehem today, the nativity scenes that adorn the numerous American church and parish lawns would look quite different if genuinely politically correct. Mary and Joseph, probably too poor to pay local taxes on a vehicle, would be forced to ride Palestinian local transit. The bus would drop them off outside the West Bank at an Israeli checkpoint. From there they'd walk through a maze of turnstiles and security posts into Bethlehem. If their identity card read 'Israeli citizen,' there is some question whether the expectant couple would even be allowed into the sleepy hamlet based on current law. Replace the donkeys, sheep and mules with taxis, buses and heavily armed checkpoints."
Haas went on to write:
"If God's son had been born into the sleepy hamlet today, He'd be without citizenship. Palestine is still a territory, not a country. Considered to be a security threat from birth, He'd receive his green Palestinian ID at the age of 16. Without authorization granted only by the Israeli government, He would be prohibited from crossing the wall into Jerusalem only 15 minutes away. Permits are difficult to acquire, and often only last one to five months. His inability to travel past a wall four times the height of Shaquille O'Neal would prove a slight obstacle for a Gospel destined for the world.
"Inside Bethlehem, Jesus and His parents could still practice carpentry. Many men work in factories producing lovely carvings from the treasured olive tree. Yet, His olivewood carvings would collect dust in shops that tourists are often too afraid to enter."
This attempt to compare the gospels with Palestinian liberation theology used to exist only in liberal seminaries. Now it is becoming mainstream within evangelicalism.
British writer Paul Wilkinson is also very familiar with this type of anti-Israel agenda:
"The portrayal of the Lord Jesus Christ as a Palestinian refugee who lived under military occupation has, in recent years, been used as a powerful propaganda weapon against Israel by an increasing number of pro-Palestinian Evangelicals. This blasphemous depiction of Jesus ominously echoes what Palestinian authors, clerics, and political leaders have been saying publicly of late in a brazen attempt to claim Christ as one of their own. By propagating their Islamicized version of 'replacement theology' (now rebranded 'fulfillment theology' or 'messianic fulfillment' by leading pro-Palestinian Evangelicals such as Stephen Sizer and Gary Burge), Islamic scholars have endeared themselves to many in the Church who have cast off the restraint of God's Word and God's Spirit. The forging of unholy Evangelical-Muslim alliances in the name of 'dialogue' and 'bridge-building' is reminiscent of the unholy alliance which suddenly developed between Herod and Pilate during the trial of Jesus – they were sworn enemies who united against a common enemy; today the common enemy is Israel. Like the false prophets of old who prophesied lies in God's Name, pro-Palestinian Evangelicals, or 'Christian Palestinianists' as we might call them, are running with a message they believe is from God, but God has not sent them, for they have not stood in His council (Jeremiah 23:9-32)."
Vida Velasco, who serves as Central Region High School Program Coordinator for StandWithUs, also battles historical revisionism, and she has a ready answer:
"It is so clear all over the Word that God has a special place in His heart for His people [the Jews]. We should be grateful to the Jewish people for the Messiah, who is from House of David. He lived a Jewish life, a rabbi here on earth. All the disciples were Jewish!"
What's going on in Turkey and how does it figure into prophecy?
Can you believe the Arab Spring in Syria has been going on since January 2011 (or Dec 2010 depending on which source). For two and a half years, the Arab world has experienced unrest like it never has before. Dictators, Parliaments or Presidents fell in rapid succession. The civil war in Syria is taking a tens of thousands of lives and going on its third year. And now Turkey seems to be the latest victim of the unrest that now characterizes the region.
The BBC reports
on the latest nation's uprising,
"[T]housands of anti-government protesters have rallied again in Istanbul's Taksim Square. Earlier, Mr Erdogan vowed to press ahead with a controversial proposal to redevelop a park in Istanbul. A local protest against the plan turned into political unrest in Istanbul, Ankara and across Turkey. The original sit-in at Gezi Park last Friday mushroomed after police cracked down on activists defending the green space near Taksim Square from developers. For days, demonstrators in Istanbul, Ankara and other cities have called for the three-term prime minister to quit."
Turkey? The one nation that had seemed calm in the face of constant teargas, bullets, and fists in the air? Yes. And it was inevitable.
Recep Erdogan has been Prime Minister of Turkey since 2003. Initially he brought stability and a westernization to this country. He was part of the negotiations to enter the European Union. He was allied with Israel. He brought inflation under control. He ended internal conflict amongst factions. He stabilized the party and thus, Parliament. The west loved him.
However as time went on, "On his second and third terms in office, despite the improvements brought about as a result of the first term, the government mostly gave up on the European Union backed democratization process and became increasingly authoritarian on press freedom, [more journalists are in jail in Turkey than in China!] restrictive on Kurdish minority rights and dismissive and authoritative on formerly dominant political powers in Ankara. Democratic initiative on Kurdish minority rights, led by Erdoğan, stalled." (source).
After all, Erdogan "once called democracy a train from which you get off once you reach the station."
Like Hitler did?
Of late, the nation's ranking for press freedom slipped. Erdogan began censoring internet access, he broke ties with Israel, and most recently, severely tightened restrictions on use and sale of alcohol due to religious reasons.
Erdogan is Sunni Muslim, remember.
In February 2013, Erdoğan called Zionism a "crime against humanity", comparing it to Islamophobia, anti-Semitism, and fascism.
Uh-oh.
And in June of 2013 for the first time in ten years in Turkey, an uprising occurred. "June 2013 saw protests against the perceived authoritarianism of Erdogan and his policies, starting from a small sit-in in Istanbul in defense of a city park. After the police's intense reaction with tear gas, the protests grew each day for the next seven days. Faced by the largest mass protest in a decade, Erdogan made this controversial remark in a televised speech: "The police were there yesterday, they are there today, and they will be there tomorrow. Taksim Square cannot be allowed to be a place where marginal groups can freely roam". (source)
Of these uprisings, The Economist explains in an article interestingly titled, Democrat or sultan? and he is illustrated as a sultan on a rug holding a modern teargas mask, "The protests are a sign of rising dissatisfaction with Recep Tayyip Erdogan, Turkey's most important leader since Ataturk. The rioting spread like wildfire across the country. Over 4,000 people have been hurt and over 900 were arrested; three have died."
Unlike the previously mentioned Arab Spring and the protests in Egypt, for example, the protests in Taksim Square in Istanbul have not been FOR Islamism in Turkey, they have been protests against Erdogan's (perceived) increasing Islamization of the nation. (source, source). Or, at least against his continued authoritarian constriction of previously enjoyed freedoms.
In a truly democratic nation, there is tolerance for dissent. What the world witnessed this past week was extreme intolerance and further, that the go-to position from its nation's duly elected leader is violence and heavy-handedness.
There is much debate among the world political watchdogs as to whether this is an Arab Spring for Turkey or not. Some say it the exact opposite- a Turkish Autumn, if you will. (source, source). Others
say it is the first crack that will lead to a return of the Caliphate. But let's look at what prophecy says.
"The Arab Spring is the media term for the revolutionary wave of nonviolent and violent demonstrations, violent and nonviolent protests, riots, and civil wars in the Arab world that began on 18 December 2010. To date, rulers have been forced from power in Tunisia, Egypt, Libya, and Yemen; civil uprisings have erupted in Bahrain and Syria; major protests have broken out in Algeria, Iraq, Jordan, Kuwait, Morocco, and Sudan; and minor protests have occurred in Mauritania, Oman, Saudi Arabia, Djibouti, and Western Sahara."
This Arab Spring occurred within a region known as the 10/40 window. The Joshua Project describes the importance of the 10/40 Window this way-
"The 10/40 Window has several important considerations: first, the historical and Biblical significance; second, the least evangelized countries; third, the unreached people groups and cities; fourth, the dominance of three religious blocs; fifth, the preponderance of the poor; sixth, the strongholds of Satan within the 10/40 Window."
Here is the 10/40 window on a map:
"The 10/40 Window is a term coined by Christian missionary strategist Luis Bush in 1990 to refer those regions of the eastern hemisphere, plus the European and African part of the western hemisphere, located between 10 and 40 degrees north of the equator, a general area that in 1990 was purported to have the highest level of socioeconomic challenges and least access to the Christian message and Christian resources on the planet." Wikipedia list of 10/40 nations is below.
What is interesting is that many of these nations participated in the Arab Spring, and are further predicted in prophecy to be part of the major wars of the coming Tribulation times (Psalm 83, Isaiah 19, Isaiah 17, Revelation 16:12, Obadiah 1:15-18, Ezekiel 38-39, etc). One huge exception to this is that Russia is not in the 10/40 window, but is a major player in Ezekiel 38-39's Gog Magog war.
Turkey is interesting not only because of her past part in history and her future part in history (more on these below) but her present condition as a perhaps-secretly Muslim nation with a Democratic overlay. Soon, I believe, this overlay will be ripped off as the nation's true position will be revealed.
Turkey's past is important to bible history and future prophecy. For example,
–Turkey was home to all seven of the churches Jesus had John write to in the book of Revelation.
–Turkey was home to half the Roman Empire. The eastern capital of the Roman Empire was Istanbul (renamed Constantinople in 330AD). Many scholars believe that because the Roman Empire was split into two halves, or two legs, that this is the reason for the imagery in Daniel 2 of the statue that represented kingdoms to come. (Daniel 2:32-35). This means that in all likelihood when the Roman Empire is revived it will carry with it the ancient eastern half, Turkey. (Daniel 2:40-41)
–Turkey was the home to the Ottoman Empire from 1453 to 1922. The Ottoman Caliphate was abolished on 3 March 1924 when the Empire collapsed and the Caliphate's authority and properties were transferred to the Grand National Assembly of Turkey. But Revelation speaks mysteriously of another empire, the seventh king who is also and eighth but belongs to the seventh (Revelation 17:9-11). In some way, it seems, the Ottoman Empire may be included, represented, or seen in the seven mountains and kings. (More here).
–Finally, the past Caliphate of Turkey is not to be overlooked.
"For the last 400 years of its existence, the Caliphate was claimed by the Turkish Sultans of the Ottoman Empire. Though the Ottomans actively used the title only sporadically, from 1517 onwards the Ottoman Sultan came to be viewed as the de facto leader and representative of the Islamic world. From Constantinople (now Istanbul), the Ottomans ruled over an empire that, at its peak, covered Anatolia, most of the Middle East, North Africa, the Caucasus, and extended deep into Eastern Europe." (source)
There are many calls to revive the Caliphate, even to this very week.
PA Arabs Fete 'New Mahdi," Establishment of Calpihate "Thousands of PA Arabs participated in a mass rally in Ramallah earlier this week calling for the establishment of the Muslim Caliphate – the worldwide Islamist government that will "bring the coming of the Mahdi." the Muslim messiah. The Caliphate is essentially a union of Muslim countries under the spiritual and political leadership of a single individual, the Caliph. It has been an Islamic concept since the days of Muhammad, when it was established by several of his disciples.
The last official Caliph was Abdülmecid II, who lost the office in the aftermath of the defeat of Ottoman Turkey in World War I. The best-known Caliph in the West was Suleiman the Great, an early Ottoman sultan who, in the 16th century, conquered most of the Middle East and the Persian Gulf, even conquering parts of Europe, until he was stopped at "the Gates of Vienna." With many Muslim states politically and religiously divided, and dependent on the West for support, radical Islamists have been pushing for the reestablishment of the Caliphate – this time to be led by the all-powerful Mahdi, who will unite all Muslims and establish Islam as the dominant religion in the world, ruling for several years before the "Day of Judgment". Although the identity of the Mahdi is a secret, many Islamists believe that he is alive now…"
That Turkey is now folded into the world troubles is not a surprise. Turkey figures prominently in past and future history. Keep your eyes on Turkey, as as well as all developments in the Middle East, even as you also keep looking up. (Luke 21:28)