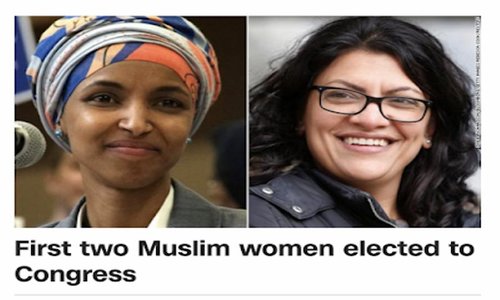 Rashida Tlaib  and Ilhan Omar
Preface to article below:
While I have as much respect for Mr. Tobin as I can have for another person, he being far more educated than I and a much better writer, Mr. Tobin approaches everything from a Jewish worldview. Mr. Tobin is not a Christian.
As an American, one who possibly is a wee bit more aware of what is transpiring here, as well as being a child of God's, a disciple of Jesus Christ the Lord, I see the constant eroding of American institutions such as the Congress.
Twenty years ago, ten years ago there were no Islamists in any house of the U.S. Congress. Now with each election Islamists are getting elected to what throughout U.S. history has been known as "the people's house," or the people's branch of government. The White House and the Presidents, as well as the Supreme Court Justices are considered to be in a different league — but with the Congress? That is supposed to be the "house" whereby the people elect and have their REPRESENTATIVES, their VOICE.
This is being eroded and corrupted with each subsequent election. There is an ongoing erosion and corruption in all elected offices throughout this nation.
Colorado now has its first openly homosexual Governor.
Oregon has an openly bisexual Governor.
There are openly homosexual and lesbian elected officials from Kansas and New Hampshire. Many within the U.S. Congress and various government institutions. All pushing the militant, concerted homosexual agenda. Make no mistake.
As troubling as this more and more Islamists are being elected as LAWMAKERS. These are all anti-Israel, anti-Jew, anti-Christian officials. Make no mistake.
This constant erosion will have dire consequences. Make no mistake.
Mr. Tobin imagines a world, a Congress where the established democrats in Congress will control these new radical elements but with each passing election more and more extremist, radical elements are being added to the ranks of both houses of the U.S. Congress.
I believe every word in God's word. The Holy Bible. And I believe we are living in the Biblical times of Romans 1.
There is coming a time where a tipping point will be present. Where the moderates will have been voted out, retired, passed on and the radical elements, the Islamists, the homosexual, the anti-Israel, anti-Jew, anti-Christian, anti-Constitution, anti-American elements will be making the laws. Making the laws lawlessness. Do not imagine this can never be. America already has turned from God, turned from Jesus Christ, turned from the Holy Bible, turned from being a God fearing Christian nation and people. We have already indulged in and revel in making the laws lawlessness for decades now — and God is giving this generation, these people now over to reprobate minds. Make no mistake.
Be aware. Prepare.
Spend much more time in private meaningful humble prayer not amiss.
Spend more time in mediation upon and study in and of God's word.
The times are a changin' and there has been something blowin' in the wind for decades now. Evil is growing. Because the people allow it, revel in it, take pleasure in it and elevate evil to their idol. they make pursuing evil their livelihood and ambition while more and more turn from God, spit on Jesus, mock and refute the Holy Bible. Even in so-called Christian churches in these times.
More evil is coming. More laws will be changed.
America will become unrecognizable.
People continually ask and seek "Where is America in the Bible?"
America is lumped in with ALL NATIONS, EVERY NATION because America no longer is a distinct and different voice. A different light in the world. America has become like just about every other place and the unrighteous, the unholy, the ungodly, the pagan, the lovers of self and evil are prevailing.
Even within the so-called Christian churches.
And within every institution in this land.
Now I do not propose anything Un-American such as banning certain people from running for office. I do not suggest anything any fascist, communist, repressive tyrannical state has ever proposed and implemented. I am praying that the people of this once Christian nation see the light, repent, and have the scales removed from their eyes, the lies removed from their ears and they begin to see, hear and discern wisely.
This is possible.
Let us all pray for such. Continually. With faith.
For that is the only balm and solution we have before U.S. — to turn BACK TO GOD, BACK TO JESUS, BACK TO THE HOLY BIBLE, BACK TO LIVING AS RIGHTEOUS as we possibly can as a God-fearing, Bible believing people. God's infinite love and mercy, God seeing and knowing all would respond in kind to this nation once again. I believe completely if we repented as a people and turned back to God diligently, sincerely we would not have to concern ourselves with Islam spreading into our government, with homosexuality being accepted and more and more openly homosexual people being placed in public office. If we were again a God-fearing, Bible believing and Bible LIVING people, striving to be obedient to God we would not ever be discussing such matters.
But the further we remove ourselves from God our Father?
The greater our travails, our trials, our tribulations and sufferings will become.
Ken Pullen
ACP
Friday, November 9th, 2018
Who speaks for the Democrats on Israel?
Radical freshmen in the House will make noise while veterans preserve the alliance.
By Jonathan S. Tobin
November 7, 2018
Reprinted from: Jewish News Syndicate (JNS)
(November 7, 2018 / JNS) Have radicals taken over the Democratic Party? The victories of some self-described "socialists" and other left-wing individual candidates in some highly publicized races this year might lead you to think the answer is "yes."
The growing number of critics and outright opponents of Israel among party activists has been a concern for several years. Their increasing prominence has added to the worries of those who worry the Democrats could be going the way of Britain's Labor Party, which has fallen under the control of radical anti-Zionists, as well as an open anti-Semite like their leader Jeremy Corbyn.
Congresswoman-elect from New York Alexandria Ocasio-Cortez with Sen. Bernie Sanders (I-Vt.) on CBS's "Face the Nation." Credit: Screenshot.
But instead of panicking at the prospect of a House of Representatives controlled by the Democrats in 2019, those fearing for the future of the U.S.-Israel alliance should calm down. While the next two years promises to be one of escalating conflict between the Democrats and U.S. President Donald Trump, Israel won't be part of the argument. Just as important, the election results gave far more comfort to those who wish to keep the Democrats as part of a bipartisan pro-Israel coalition than those who want to break it up.
Opponents of Israel will have something to celebrate in January.
Rashida Tlaib will become the first Palestinian-American to serve in Congress. Tlaib, who will represent a suburban district outside of Detroit with a large Arab-American population, is an avowed opponent of Israel's existence and a supporter of the BDS movement. She will find a kindred spirit in fellow freshman Democrat Ilhan Omar, who will be first Somali-American in Congress when she takes the oath to represent Minneapolis. Omar is a fierce critic of Israel, who has called it an "evil" country that has "hypnotized the world"—a standard anti-Semitic meme—and an "apartheid regime."
Both are allied with Alexandria Ocasio-Cortez, a socialist who will represent Queens, N.Y. Ocasio-Cortez said she wanted to end the "occupation of Palestine," though she didn't seem able to say whether that meant the West Bank or, as Palestinians define the term, all of Israel.
This trio of congressional newcomers is also allied with the Women's March, whose leaders combine anti-Zionism with a soft spot for anti-Semitic hate-monger Louis Farrakhan, head of the Nation of Islam.
We can expect them to unite with other Democrats to undermine the U.S.-Israel alliance, such as the dozens who signed letters last year championed by figures such as Sens. Bernie Sanders (I-Vt.) and Elizabeth Warren (D-Mass.) calling for the lifting of the blockade of the terrorist Hamas regime that rules Gaza.
Intersectional ideology, which falsely analogizes the Palestinian war on Israel's existence with the struggle for civil rights in the United States, has become fashionable in progressive circles. But those running the Democratic caucus are still firmly in the pro-Israel camp.
House Democratic leader Rep. Nancy Pelosi (D-Calif.)—and the presumptive Speaker of the House next year—has been a fairly reliable friend of Israel, though not necessarily a fan of the Netanyahu government. The No. 2 Democrat in the House, current Minority Whip Rep. Steny Hoyer (D-Md.) is an even more ardent supporter of Israel who has done his best over the years to keep left-wing members of his caucus in line with respect to the Middle East.
Some of the Democrats who will run powerful House committees, such as Rep. Maxine Waters (D-Calif.), are not friendly to Israel. But her leadership of the Financial Services Committee probably won't cause any trouble for it.
On the other hand, other veteran Democrats are in a position to bolster the alliance.
The current ranking minority member and presumptive chair next year of the House Foreign Affairs Committee is Rep. Eliot Engel, who represents the Bronx, N.Y. Engel's views about the Middle East could be fairly described as aligning perfectly with the Likud Party in Israel. He is the last person who would champion an attempt to reverse Trump's policies, such as cutting back U.S. aid to the Palestinian Authority to force them to cease subsidizing terrorists.
Rep. Eliot Engel (D-N.Y.) is expected to become the next chairman of the House Foreign Affairs Committee. Credit: Wikimedia Commons.
The new chair of the powerful House Appropriations committee is likely to be Rep. Nita Lowey (D-N.Y.), another reliable pro-Israel legislator.
Just as important is the fact that left-wing foes of Israel received some sharp setbacks in the midterms.
Despite the general swing towards the Democrats in Virginia, anti-Israel propagandist Leslie Cockburn failed to win a vulnerable Republican-held seat for the Democrats. Scott Wallace, a left-wing philanthropist who had funded BDS causes, also failed to capitalize on anti-Trump sentiment in his effort to flip a Republican seat to the Democrats in the Philadelphia suburbs.
Democrats expanded their numbers throughout the country, but those who ran as unabashed progressives, rather than as moderates in districts and states that were not deep blue, generally failed. Indeed, while the gubernatorial contest in Florida was more of a test of the lingering appeal of the Trump brand, it was also one that pitted a fervent ally of Israel in Rep. Ron DeSantis (who eked out a win) against Tallahassee Mayor Andrew Gillum, who had ties to groups that are critical of Israel.
It remains to be seen whether Democrats will conclude that the mistake in Florida and other races was nominating left-wingers, and now look for a presidential nominee in 2020 who is more of a moderate, rather than one who can appeal to the anti-Israel intersectional crowd on the left. But as much as people like Ocasio-Cortez, Tlaib and Omar will get publicity for their cause, the fact remains that most congressional Democrats will be counted among Israel's friends. Alongside a Republican caucus that is nearly unanimous in its support for the Jewish state, it creates a political atmosphere that is still very friendly to Israel.
The future of the Democratic Party with respect to Israel is by no means assured as the party shifts to the left. But for the present, the radical anti-Israel faction remains in the minority, at least as far as Congress is concerned. It will be up to pro-Israel liberals to make sure it stays that way.
Jonathan S. Tobin is editor in chief of JNS — Jewish News Syndicate. Follow him on Twitter at: @jonathans_tobin.
How religious groups voted in the midterm elections
November 7, 2018
Reprinted from: Pew Research Center
Voters in North Carolina cast their ballots. (Logan Cyrus/AFP via Getty Images)
A preliminary analysis of the 2018 midterm elections finds considerable continuity in the voting patterns of several key religious groups. White evangelical or born-again Christians backed Republican candidates for the U.S. House of Representatives at about the same rate they did in 2014. Meanwhile, religiously unaffiliated voters (also known as religious "nones") and Jewish voters once again backed Democratic candidates by large margins.
Three-quarters (75%) of white voters who describe themselves as evangelical or born-again Christians (a group that includes Protestants, Catholics and members of other faiths) voted for Republican House candidates in 2018, according to National Election Pool (NEP) exit poll data reported by NBC News. That is on par with the share who did so in midterm elections in 2014 (78%) and 2010 (77%).
At the other end of the spectrum, seven-in-ten religious "nones" voted for the Democratic candidate in their congressional district, which is virtually identical to the share of religious "nones" who voted for Democratic candidates in 2014 and 2010. Roughly eight-in-ten Jewish voters (79%) cast their ballots for the Democrats, higher than the share who did so in 2014, but somewhat shy of 2006 levels. (Data on Jewish voters were not available in 2010.)
The 2018 exit polls show a slight shift in Catholic voting patterns compared with recent midterm elections. This year, Catholic voters were evenly split between the parties: 50% favored the Democratic candidate for Congress in their district, while 49% favored the GOP's nominee. In the past two midterm elections (2014 and 2010), Catholics leaned in favor of Republican candidates by margins of roughly 10 percentage points.
Among Protestants, 56% voted for Republican congressional candidates and 42% backed Democrats. Among those who identify with faiths other than Christianity and Judaism (including Muslims, Buddhists, Hindus and many others), 73% voted for Democratic congressional candidates while 25% supported Republicans.
Voters who say they attend religious services at least once a week backed Republican candidates over Democrats in their congressional districts by an 18-point margin. Those who attend services less often tilted in favor of the Democratic Party, including two-thirds (68%) of those who say they never attend worship services.
Analysis of the religious composition of the 2018 midterm electorate shows that 17% of voters were religiously unaffiliated, up from 12% in 2014 and 2010. Meanwhile, 47% of voters in 2018 were Protestants, down from 53% in 2014 and 55% in 2010. There was little change in the share of voters who identify as Catholic, Jewish or with other faiths. And the 26% of 2018 voters who were white and identify as born-again or evangelical Christians is similar to other recent midterm elections.
This preliminary analysis reflects data for 2018 as published by NBC News as of 11 a.m. on Nov. 7, 2018. If data are subsequently reweighted by the National Election Pool (NEP), the consortium of news organizations that conducts the exit polls, the numbers reported here may differ slightly from figures accessible through the websites of NEP member organizations.
Topics: Voter Participation, Elections and Campaigns, U.S. Political Parties, Religion and U.S. Politics, 2018 Election