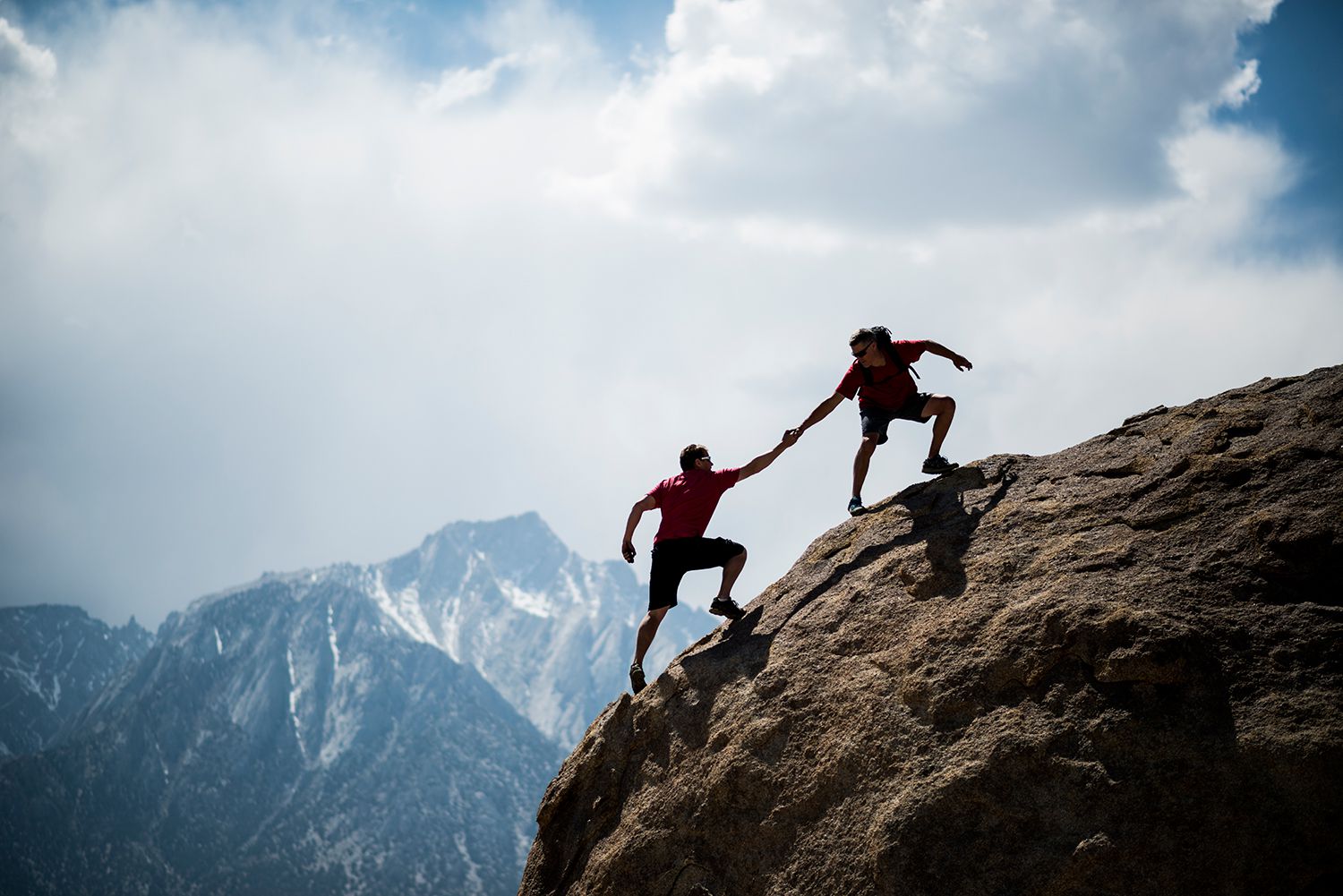 It isn't easy
by Ken Pullen
ACP—A Crooked Path
Sunday, April 14th, 2019
It isn't easy knowing all those who refuse Jesus Christ as Lord and Saviour, all those who doubt, deny, endlessly debate if Jesus truly was, or if He was then was He truly the Son of God, and how can this be are doomed if they do not repent of their sins, ask God's forgiveness and embrace Jesus a Lord of their lives. Renewed of mind and spirit — a new creature through the mystery, majesty and POWER of the Spirit of God.
Jesus said to him, "I am the way, and the truth, and the life. No one comes to the Father except through me."
John 14:6 — English Standard Version
"No man can come to me, except the Father which hath sent me draw him: and I will raise him up at the last day."
John 6:44 — English Standard Version
It isn't easy, yet the easiest answer in the world of any question asked, if addressed directly, "Is ___________ going to hell if they don't believe as you do, if they don't believe in Jesus as Lord and all that?"
It isn't easy but so clear and none should recoil or shrink from this question.
The response should be strong, gentle, humble not with an air of superiority or arrogance, but assuredness and be something along the line of, "As long as God blesses _____________ with breath and life in the flesh here on earth there is always the hope ___________ will hear the voice of the Lord, repent, come to the knowledge of Jesus as Saviour and live the rest of their days following the Shepherd, but if _________ never does become renewed of mind and spirit? Born anew? Without true belief and faith in their hearts? They will perish and be in the final judgment like all who refused the truth, the light and chose to walk in darkness all their days. And the Bible tells us they will be judged by the Lord and condemned to eternal damnation."
It isn't easy. Especially in these times of such corruption within the professed church, so many false teachers, so much confusion within the church as so many have permitted the Enemy in, permitted the Evil One in bringing chaos and his lies — and high among them that sin is no longer called sin. The word isn't preached as written, the Word isn't preached fully. The Word is watered down. Those who were given milk to never grow strong and to maturity are now not even given whole milk but watered down, powdered substitutes for the Real Thing.
It isn't easy but if we are genuine disciples of Jesus Christ the Lord? We must never waver. Never appease those asking, those in need of the truth. We must never bow to this world and it's ways and beliefs but all the more call upon the Lord to provide His Holy Spirit to us for instruction and the words to say, the words to write.
Never shirking from our duty and responsibility as foot soldiers for Jesus Christ our Captain and Lord.
In this time of increasing wickedness and an escalated spiritual war there are many false teachers and much unsound doctrine being feed to people. By professed Christian pastors and preachers. This number grows. The apostasy increases. The Great Falling Away rages on. The time of being given over to reprobate minds, unrighteous minds even though knowing better is here.
If we're paying attention we're hearing and seeing massive erosion within the Christian church in part by such false teachings that we all believe in the same God, whether Christian, Hindu, Muslim, so on. That everyone goes to heaven. That there is no hell. The God people want to believe in today would never send anyone to hell — that's not THEIR God. Whatever one does or believes is acceptable. Just keep wearing that gold cross on your neck and you're okay with God because you SAY you're a Christian — you don't really need to LIVE AS ONE. Just be a "good person." Do good works and say you believe in Jesus and you'll be saved! Satan believes Jesus is the Son of God. The Evil One believes God came to earth and became wholly man and wholly God also. Yet the devil is not saved and never will be.
Works, fruit comes from faith and obedience. From hearing the voice of the Lord and following Him. But works, good deeds, being a "good person" (by who's criteria? Our own? Who's? Where's the truth and objectivity in that?) Salvation comes only through hearing the voice of the Lord in our hearts, our cold and dead hearts and then bowing to Him. Believing Him. Following Him. Making Him Lord of our lives. Only Jesus. Only Jesus. Only Jesus!
And there is salvation in no one else, for there is no other name under heaven given among men by which we must be saved.
Acts 4:12 — English Standard Version
For there is one God, and there is one mediator between God and men, the man Christ Jesus,
1 Timothy 2:5 — English Standard Version
But I say, walk by the Spirit, and you will not gratify the desires of the flesh. For the desires of the flesh are against the Spirit, and the desires of the Spirit are against the flesh, for these are opposed to each other, to keep you from doing the things you want to do. But if you are led by the Spirit, you are not under the law. Now the works of the flesh are evident: sexual immorality, impurity, sensuality, idolatry, sorcery, enmity, strife, jealousy, fits of anger, rivalries, dissensions, divisions, envy, drunkenness, orgies, and things like these. I warn you, as I warned you before, that those who do such things will not inherit the kingdom of God. But the fruit of the Spirit is love, joy, peace, patience, kindness, goodness, faithfulness, gentleness, self-control; against such things there is no law. And those who belong to Christ Jesus have crucified the flesh with its passions and desires.
If we live by the Spirit, let us also keep in step with the Spirit. Let us not become conceited, provoking one another, envying one another.
Galatians 5:16-26 — English Standard Version
It isn't easy if we have a friend, someone close to us, a relative, a person we've known for years and is dear to us in so many ways yet they deny Jesus Christ, do not want to hear or know about the life giving bread and waters within the Word of God, and tell us, "Just keep all that religion, Jesus, and God stuff to yourself and don't tell me about it. I'm going to believe what I want to believe."
It isn't easy but we need to remain strong, bold and not waver in that situation. We do not bang the person over the head with a Bible. Or berate them, come off as superior — but we do not listen to the voice of the Evil One coming through them telling us to cease and desist in our duty to the Lord.
We pray fervently, intently, strongly in faith for that person.
We believe in the power of our prayers.
We do not relent, weaken or obey the person or the world that person worships rather than worshipping the Lord our God.
We must truly become the salt of the earth flavoring our words, our deeds with the proof and clearness of the living Word of God. We must truly be a light unto the world, like an illuminated city on a hill. Not hiding the light within us nor denying it.
Some might come back and say, "Yes, but the Bible tells us to not cast our pearls before swine, stop wasting your time telling __________ about Jesus, God and salvation."
Live the example of the light of the world and Jesus residing within and then us within Him.
Have faith in the Supernatural and amazing mystery of the POWER of the Spirit of God to work. Do not doubt. Do not despair.
No man or woman saves. Only Jesus saves, only the Spirit of God moving within an individual saves.
Pray. Pray deeply. Pray strong. Pray big. Pray long — as in without ceasing because it might take years of diligent prayer for those prayers to be answered but do not despair with God, tempt God, become angry with God, make demands upon God. And there is no need to keep reminding the person you're praying for them. Allow the Spirit of the Lord to work. Trust in God. Pray in secret and let no one know your true heart and desires in your prayers. Do not boast. Now, if gathered together with others and someone asks, "Can we pray together for _____________?" and that happens to be the very person your heart is saddened they are walking in darkness and not transformed to live for Jesus? Certainly openly pray for them — but trust in the Lord and His power. None of us saves with our words, our writing, our own voice. We are only vessels serving the Lord for His voice to hopefully come through us. Purely.
God knows best. God knows all.
Trust. Believe.
"Be still, and know that I am God: I will be exalted among the heathen, I will be exalted in the earth."
Psalm 46:10 — King James Version
It is the easiest thing ever done in this life by anyone — who believes. Who has faith. Who has the faith of a little child and hears the Lord and follows Him.
It might not seem easy, the Evil One may, oh he will, begin to whisper, stir within, telling you it's going to be so hard. So many rules to follow and you're never going to cut it. Make the grade. It's going to be so hard — or conversely, sadly, as far too many believe in error upon entering — if they believe and profess their faith in Jesus Christ and "become a Christian" everything becomes easy. They will no longer have tough things, those terrible life on earth things to contend with.
Do not become ensnared.
Confused. Misled. Taught unsound doctrine which is then followed rather than following Christ and the complete Word of God (did the people of God have struggles, pain, suffering, setbacks, disappointments in their lives? Read about Samuel if you're not well versed in this area).
To those who hear the Lord and follow Him? Renewed of mind and spirit? Born anew? Indwelt with the Holy Spirit? All those come to KNOW. KNOW things within their heart, their mind, their spirit they never saw, understood or were aware of before committing their lives to Jesus making Him Lord of their lives. KNOW things they never would come to know from 1,000 years of study of worldly writings, listening to the philosophers and teachers of this world. Come to KNOW things only possible from faith and the POWER of the Holy Spirit working in their lives.
It is easy with the Lord. With His Spirit. With His instruction. With His words of comfort, peace and life.
It's easy whether we are cast into prison like Paul, or persecuted for the faith if we're truly in the faith. All suffering might be difficult to go through but if we are truly His? Truly living in and with faith in Jesus, God, the Holy Spirit and turning to the Holy Bible as our source of nourishment?
Whatever comes is easy.
It might not be easy in so many ways for so many days, it isn't easy only if we abandon the Lord and move from Him and His constant wonderful Shepherding of us His sheep.
Yet living in the Lord, in faith all things no matter how difficult, how painful for a season here on earth are easy to endure if we have perspective that we might endure sufferings, disappointment, trials and tribulations here on earth for a 100 years but what is that compared to eternity?
And we need to keep our eyes, our minds upon eternity.
Because none of us knows when that eternity might begin for us and we need to be prepared. To be ready. To be the Lord's and not this worlds.
It isn't easy yet it is also the easiest thing on earth.
Believe!
Believe!
Believe and follow.
Believe and obey.
Believe and submit.
Believe and become born again, with the faith of a child.
For eternity is a long, long, long time I've been told.
Jesus and Nicodemus
Now there was a man of the Pharisees named Nicodemus, a leader of the Jews. He came to Jesus at night and said, "Rabbi, we know that You are a teacher who has come from God. For no one could perform the signs You are doing if God were not with him."
Jesus replied, "Truly, truly, I tell you, no one can see the kingdom of God unless he is born again."
"How can a man be born when he is old?" Nicodemus asked. "Can he enter his mother's womb a second time to be born?"
Jesus answered, "Truly, truly, I tell you, no one can enter the kingdom of God unless he is born of water and the Spirit. Flesh is born of flesh, but spirit is born of the Spirit. Do not be amazed that I said, 'You must be born again.' The wind blows where it wishes. You hear its sound, but you do not know where it comes from or where it is going. So it is with everyone born of the Spirit."
"How can this be?" Nicodemus asked.
"You are Israel's teacher," said Jesus, "and you do not understand these things? Truly, truly, I tell you, we speak of what we know, and we testify to what we have seen, and yet you people do not accept our testimony.
If I have told you about earthly things and you do not believe, how will you believe if I tell you about heavenly things? No one has ascended into heaven except the One who descended from heaven—the Son of Man. Just as Moses lifted up the snake in the wilderness, so the Son of Man must be lifted up, that everyone who believes in Him may have eternal life.
For God So Loved
(Genesis 22:1-10; Romans 5:6-11)
For God so loved the world that He gave His one and only Son, that everyone who believes in Him shall not perish but have eternal life. For God did not send His Son into the world to condemn the world, but to save the world through Him. Whoever believes in Him is not condemned, but whoever does not believe has already been condemned, because he has not believed in the name of God's one and only Son.
And this is the verdict: The Light has come into the world, but men loved the darkness rather than the Light, because their deeds were evil. Everyone who does evil hates the Light, and does not come into the Light for fear that his deeds will be exposed. But whoever practices the truth comes into the Light, so that it may be seen clearly that what he has done has been accomplished in God."
John's Testimony about Jesus
After this, Jesus and His disciples went into the Judean countryside, where He spent some time with them and baptized.
Now John was also baptizing at Aenon near Salim, because the water was plentiful there, and people kept coming to be baptized. (For John had not yet been thrown into prison.)
A dispute arose between John's disciples and a certain Jew over the issue of ceremonial washing. So John's disciples came to him and said, "Look, Rabbi, the One who was with you beyond the Jordan, the One you testified about—He is baptizing, and everyone is going to Him."
John replied, "A man can receive only what is given him from heaven. You yourselves can testify that I said, 'I am not the Christ, but am sent ahead of Him.' The bride belongs to the bridegroom. The friend of the bridegroom stands and listens for him, and is overjoyed to hear the bridegroom's voice. That joy is mine, and it is now complete. He must increase; I must decrease.
The One who comes from above is above all. The one who is from the earth belongs to the earth and speaks as one from the earth. The One who comes from heaven is above all. He testifies to what He has seen and heard, yet no one accepts His testimony. Whoever accepts His testimony has certified that God is truthful. For the One whom God has sent speaks the words of God, for God gives the Spirit without limit.
The Father loves the Son and has placed all things in His hands. Whoever believes in the Son has eternal life. Whoever rejects the Son will not see life. Instead, the wrath of God remains on him."
John 3 — English Standard Version