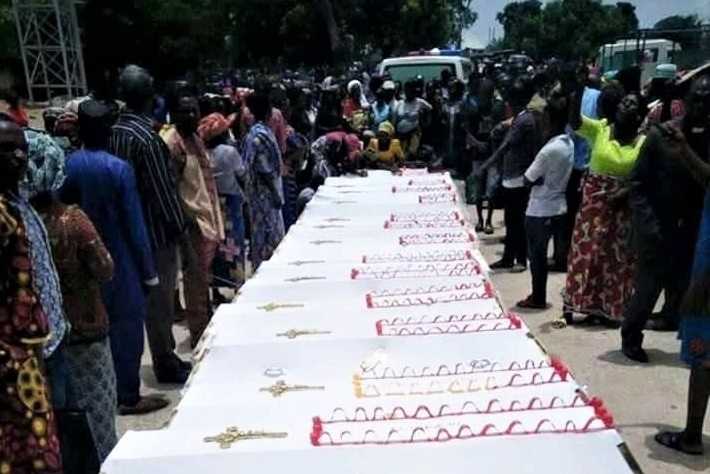 Coffins of Christians who were attending a baby dedication murdered by Islamists in Nigeria
One incident of a non-Islamist going to a mosque in New Zealand and murdering Islamists and it's the lead story on all worldwide media not for a day — for over a week. Media could not spend enough time on the incident. Which was the first attack on a mosque resulting in death in decades.
Yet on a weekly basis Islamists can and are murdering Christians merely for their faith — on a weekly basis amounting to many THOUSANDS over the course of a years time and where is the worldwide media? Where's the media on the slaughter of Christians?
The burning of a building, albeit a longstanding and very historical building, a place where God really is not — He is not in buildings and structures as His church is in the hearts and minds of living men and women — the burning of Notre Dame received nothing but front and center constant coverage, and still does. Yet a real Christian lose their life at the hands of Islamists? Terrorists? Some demonic possessed savage and where's the media?
Nowhere to be found.
This is FACT.
And the worldwide media ought to be ashamed, but they are not since they conspire with the powers of this world AGAINST real Christianity and the truth of the living Gospel of Jesus Christ and the One True God, but no matter, for each involved in the media who do such evil works? Each will be held accountable on that day.
To the worldwide media, in their guidebook, their instructions, how they are taught? Islam and Islamists can do no wrong and do not ever mention a horrific deed was committed by an Islamist from the point of 9/11/2001 onwards. Ignore and deny the truth of Islam. Preach for it they are the people of peace and so, so discriminated against while being complicit in the slaughter of the saints by their silence and refusal to speak or write the truth of the Biblical times, the times of Bible prophecy being fulfilled in which we live.
As genuine Christians are in remembrance of a Saviour Who became the Ultimate Sacrifice, Who is unlike any person who established any other religion followed on this earth, none have Jesus Christ, none have a RISEN SAVIOUR, none have One Who sacrificed Himself, taking on all our sins so we might have eternal life if we believe upon Him and obey Him — let us pray for this world in such darkness that the Light may enter into their darkness. May the Truth be revealed. May the Power of the Spirit of God work in the hearts and minds and lives of those professing faith in Him and His Risen, Living Son, Jesus Christ for us to be the salt of the earth, a light unto the world, and an example unlike any other people.
Not because we are superior in any way, far from it, we are all sinners undeserving of God's sacrifice, His mercy, His grace, His love, His gift of salvation — His free gift of salvation through His shed blood and conquering death — as we think on these things let us keep those in darkness, those following beliefs leading to death and not to life — let us pray for them. Pray for this world. Pray for its world leaders they fall on their knees, repent, and turn back to God. Pray nations repent and turn back to God. Pray that those professing to be Christian truly know what that entails and means and we all LIVE IT DAILY rather than merely speaking it with our lips.
Let us also pray that those who work in presenting the so-called news and information to this sin-filled, corrupted, polluted and confused world — those who are given the task of supposedly presenting clear, concise, balanced and objective information of facts, once known and called journalism — may those in that now stench filled business have their hearts pierced, their minds scorched and may they be troubled and shaken for their deceptions, lies, and misinformation, their omissions and their concerted indoctrination and propaganda campaigns and may they, at least some of them begin to finally, once again print and speak the objective realities as they unfold in these last of the last days.
For in truth, all we can truly do is live as a light unto the world, being salt of the earth, living our lives daily as examples of Jesus Christ in us and we in Him — and to pray. We cannot change the hearts and minds of men and women. Neither change the world by vote, marching, protest or any machination of mankind — but through fervent, faithful prayer all things are possible. ESPECIALLY in CORPORATE PRAYER!
Be steadfast, Be strong. Be bold. Be faithful. All our days as they be given us by God our Father.
Never forgetting to keep in our daily prayers all those brothers, sisters and genuine believers in places such as Nigeria, Sudan, the Middle East, throughout Africa, India and throughout Asia suffering the greatest sufferings, trials and tribulations for their faith in Jesus Christ. Let us continue in prayer and supplication for the days of such persecution are nearer, much nearer to U.S. than we know and are we prepared? Are we faithful and strong to endure? To be as our brothers and sisters in other parts of the world who believe and are willing to die for the faith of Jesus Christ? As the inerrant living word tells us we may need to be and do?
They go to their death for Him, for their faith.
Can we at least go to our knees in prayer daily for them?
Ken Pullen
ACP — A Crooked Path
Saturday, April 20th, 2019
WORLD MEDIA WHERE ARE YOU? WHY THE SILENCE ON THIS? — Muslim Fulani Herdsmen Massacre Christians After Baby Dedication in Nigeria
By Morning Star News
April 19, 2019
Reprinted from: Christian News Network
JOS, Nigeria (Morning Star News) – Muslim Fulani herdsmen killed 17 Christians who had gathered after a baby dedication at a church in central Nigeria, including the mother of the child, sources said.
Safaratu John Kabiru Ali, the mother of the baby, was slain in the attack on Sunday (April 14) in Konshu-Numa village, in Nasarawa state's Akwanga County, which also took the lives of people ranging in age from 10 to 80. The baby's father, John Kabiru Ali, was shot and is in critical condition, sources said. He is receiving treatment at the Intensive Care Unit of the Federal Medical Centre, Keffi, in Nasarawa state.
The attack took place at about 7 p.m. as Christians in the predominantly Christian community gathered to eat after the child was dedicated that morning at the Ruhaniya Baptist Church in the village.
The massacred Christians were buried on Wednesday (April 17) after a funeral service at the Baptist church.
A resident of Akwanga town who lost relatives in the shooting, Jacob Tantse, told Morning Star News that 17 Christians were killed, including 10 members of the Ruhaniya Baptist Church, five members of Evangelical Reformed Church of Christ (ERCC), one member of the Evangelical Church Winning All (ECWA), and a musician playing for guests.
Tantse identified those killed as Ali Nkene, 80; Gode Kako, 13; Afiniki Kako, 10; Matthew Emmanuel, 28; Tafiya Baya, 17; Sarakuna Haruna, 21; Amos Julius, 60; Mary Amos, 40; Sunday Adebayo John, 21; Talatu Mada, 40; Saratu Kabiru John, 21; Justina Barrau, 60; Simon Anfani, 37; Kadon Sule, 20; Ayuba Bulus, 11;  Haruna Bawa, 22; and the musician, Samame Andaha, 28.
He also said eight Christians, including the host of the event, John Kabiru Ali, were wounded in the attack.