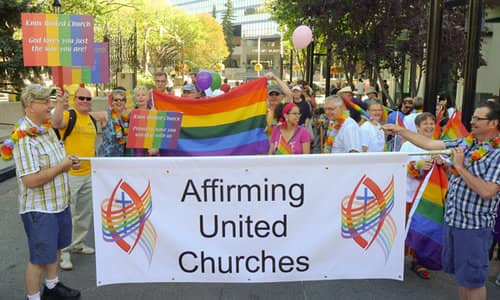 It is long past the time all people who consider themselves renewed of mind and spirit, born anew, new creatures now disciples of Jesus Christ the Lord and true believers in the whole living word of God, the INERRANT word of God stand boldly, stand firmly, stand for the word and cease turning their eyes and closing their ears from reality and speak and write plainly and clearly.
Calling the apostate churches, the false teachers, the ministers of Satan on the pulpits of America and around the world exactly what they are, rather than calling them "progressive," or "declining." They are DEAD to the truth. They are BLIND to the inerrant word of God. They do this with knowing intent. They do this blatantly with free will to disobey the word of God.
What examples do we have of what happens to any and all individuals, groups, nations that think they can cut God and His word from their lives and they will prevail and succeed without any consequences? What has happened, what does happen, what will happen to all those in the word of God who imagine they know better than God, don't need God, mock God, turn to other gods, turn to counterfeit doctrines and pagan, fleshly ways?
My wife and I live within a 3 to 5 minute drive of two so-called "Christian churches" flying the stolen rainbow of God's promise flag of the perverted, sinful homosexual movement. These so-called "Christian churches" advertise themselves as "affirming" and "open" and "inclusive" churches. Still claiming to be Christian they do not advertise or promote themselves as being Bible-based churches — because they cannot do so. They are places lost people go to pretend they are Christians, imagining they are getting their get-out-of-hell ticket punched and are on the train to heaven. How wrong they all are. The countryside is riddled and profuse with the perverse so-called "churches" with the ministers of Satan leading millions astray and to the second death. They are the walking dead. Those places are so easy to find. They now dominate the landscape and it is ever difficult to find and partake of the truth, of sound doctrine in a Bible-teachings, Bible-based, obedient to the whole inerrant living word of God true Christian church. But it is possible. And I implore each reading this if you are in a counterfeit "church" of unsound doctrine espousing the lies of the world claiming it is the word of God? First, go to the false teaching pastor or minister with one other brother or sister in your congregation that knows false teachings are the rule where you go, and speak the word of God to him. If he does not listen, does not repent? Then wipe the dust of that place from your feet, pray fervently, and find a sound doctrine Bible-based, Bible-teaching church. And if you think you can go it alone? You do not need a church? It has to be your way? A perfect fit? You are strong enough to prevail on your own? Woe to you! For you are wrong in your assumption and way of living. We each need the fellowship of a church body around us. We need more than ourselves and a Bible. Do not continue to deceive yourself. Do not continue to make excuses, be lazy or think you cannot find that place God needs and wants you to be. No matter what you do for work, no matter where you live. Make finding a sound doctrine Bible-based genuine Christian church a priority in your life. Now. Not later.
My wife and I drive past these counterfeit Christian churches, and many more along the way, on our 50 minute drive one-way to a genuine, true Bible-founded, entire word of God, sound doctrine Bible-teaching Christian church.
The Great Falling Away the apostle Paul wrote of in 2 Thessalonians is here. As we are all living in the Biblical times of Romans 1.
If reading this that means God has been ever so merciful and loving in keeping breath within, a heart beating, and life in this temporal realm active for you dear reader. You are only alive by the will and mercy, the grace, the love of, the blessing of God Almighty and His Son, Jesus Christ the Lord, and with the Holy Spirit. The Godhead. The Triune God is providing you breath. A beating heart. And if you are one of the "liberals," one of the "progressives" one who imagines they can omit, corrupt, deny, add to and later the words of the unchangeable God the same yesterday, today, and tomorrow — while the Good Lord continues to provide life in your temporary flesh I beseech you, dear one, turn from your itching ears, turn from the teachings of this world and your false teachers within your apostate fallen away so-called "Christian church," or so-called "Christian denomination," and turn to the whole, complete, inerrant living word — while you are able.
Repent. And sin no more.
If dear reader, and beloved brother or sister in the one true faith of the One True God, the one true way who has Jesus Christ and the eternal word of God as no other faith has, I beseech you dear ones to stand ever more boldly, ever more strongly, ever more illuminated, ever more salty, ever more being active and not idle, not fearful, not complacent and always wearing the full armour of the word of God and turning to the complete, living Holy Bible as the words you know and speak and write. Not wavering. Not ever appeasing. Not falling. Never having itching ears turning to fables. Not fearful of the world hating you. Not ever being disobedient to God. Not forsaking the truth of the Scriptures.
Ever.
And this is becoming more difficult by the hour. No longer the decade, the years, the months, the weeks and days — by the hour.
We are in an ever raging, ever increasing spiritual war. Not a cultural war. Not a liberal vs. conservative war. Not mere politics. This is the longest, greatest, largest war the world has known, does know and ever will know determining who stands, who falls. Who enters into heaven and eternal life with God, Jesus, the Holy Spirit and all the heavenly hosts — and who suffers the second death and an eternity in hell fire, eternal damnation isolated from God and Christ and the Holy Spirit and all that is Paradise, residing in pain unimaginable in darkness inconceivable — FOREVER.
Only two paths. Only two choices. Only two sides.
No other options.
Either this temporary world and the flesh and the false, lying doctrines of man and he who they serve — the prince of the air, the great seducer, the father of lies, the Evil One, the devil — or serving God, obeying God, turning to God, humbling oneself before God, being a true disciple of Jesus Christ the Lord. Taking up the cross daily. As a light into and unto the dark, walking dead, sin-filled world, as the salt of the earth flavoring, sustaining everything we do and say with the Lord and His Word foremost within us.
May each of us confess our sins. Seek pure minds and hearts ever mindful of Almighty God, Jesus our Lord, the Holy Spirit and the contents of the whole living INERRANT word of God. May we repent of our sins, of being more of this world than of obeying the truth and spiritual instruction given to us by God. May each of us turn to the Lord and His word over all others, over all other things, over all other influences, distractions and teachings. May we not weaken nor fall way consumed with cunning lies, fables and perverse teachings removing us from the Lord. May we continue to obey every hour of every day the Good Lord blesses us with breath and a beating heart. We're here with a purpose! To serve the Lord our God always, to obey the Lord our God always, to be an example unto the world always in all things. May this be so in each of our lives.
Do not allow erosion of the truth within. Go first and always to the inerrant word of God. Search the Scriptures, as the Bereans did to see if the words, the doctrine of any and all you are hearing is of God, or of man. In all things. Always. Realize the power, the cunning, the ability to seduce and enslave the Evil One has and we are powerless on our own to do battle with him and win. Therefore each of us needs to put on the full armour of the word of God and turn to the infinite power of God, of Christ, of the Holy Spirit as our Captain, our shield, our protection in this bloody, deadly, on-going and escalating spiritual war the world, the media, and even the majority of so-called "churches" fall to address.
Now we beseech you, brethren, by the coming of our Lord Jesus Christ, and by our gathering together unto him, That ye be not soon shaken in mind, or be troubled, neither by spirit, nor by word, nor by letter as from us, as that the day of Christ is at hand. Let no man deceive you by any means: for that day shall not come, except there come a falling away first, and that man of sin be revealed, the son of perdition; Who opposeth and exalteth himself above all that is called God, or that is worshipped; so that he as God sitteth in the temple of God, shewing himself that he is God. Remember ye not, that, when I was yet with you, I told you these things? And now ye know what withholdeth that he might be revealed in his time. For the mystery of iniquity doth already work: only he who now letteth will let, until he be taken out of the way. And then shall that Wicked be revealed, whom the Lord shall consume with the spirit of his mouth, and shall destroy with the brightness of his coming: Even him, whose coming is after the working of Satan with all power and signs and lying wonders, And with all deceivableness of unrighteousness in them that perish; because they received not the love of the truth, that they might be saved. And for this cause God shall send them strong delusion, that they should believe a lie: That they all might be damned who believed not the truth, but had pleasure in unrighteousness.
2 Thessalonians 2:1-12 — King James Version
Preach the Word
I charge thee therefore before God, and the Lord Jesus Christ, who shall judge the quick and the dead at his appearing and his kingdom; Preach the word; be instant in season, out of season; reprove, rebuke, exhort with all longsuffering and doctrine. For the time will come when they will not endure sound doctrine; but after their own lusts shall they heap to themselves teachers, having itching ears; And they shall turn away their ears from the truth, and shall be turned unto fables. But watch thou in all things, endure afflictions, do the work of an evangelist, make full proof of thy ministry.
2 Timothy 4:1-5 — King James Version
Paul and the False Apostles
I wish you would bear with me in a little foolishness. Do bear with me! For I feel a divine jealousy for you, since I betrothed you to one husband, to present you as a pure virgin to Christ. But I am afraid that as the serpent deceived Eve by his cunning, your thoughts will be led astray from a sincere and pure devotion to Christ. For if someone comes and proclaims another Jesus than the one we proclaimed, or if you receive a different spirit from the one you received, or if you accept a different gospel from the one you accepted, you put up with it readily enough. Indeed, I consider that I am not in the least inferior to these super-apostles. Even if I am unskilled in speaking, I am not so in knowledge; indeed, in every way we have made this plain to you in all things.
Or did I commit a sin in humbling myself so that you might be exalted, because I preached God's gospel to you free of charge? I robbed other churches by accepting support from them in order to serve you. And when I was with you and was in need, I did not burden anyone, for the brothers who came from Macedonia supplied my need. So I refrained and will refrain from burdening you in any way. As the truth of Christ is in me, this boasting of mine will not be silenced in the regions of Achaia. And why? Because I do not love you? God knows I do!
And what I am doing I will continue to do, in order to undermine the claim of those who would like to claim that in their boasted mission they work on the same terms as we do. For such men are false apostles, deceitful workmen, disguising themselves as apostles of Christ. And no wonder, for even Satan disguises himself as an angel of light. So it is no surprise if his servants, also, disguise themselves as servants of righteousness. Their end will correspond to their deeds.
2 Corinthians 11:1-15 — English Standard Version
Ken Pullen
ACP — A Crooked Path
Wednesday, June 12th, 2019
Apostate (Progressive) Churches Now Pushing The Lesbian, Homosexual, Bisexual and Transgender Agenda
June 12, 2019
By Prophecy News Watch Staff
Reprinted from: Prophecy News Watch
Just as residents of one town make progress towards stopping the indoctrination of our kids with Drag Queen Story Hour, the United Church of Christ has come to the rescue of lesbian, homosexual, bisexual and transgender activists.

Open Cathedral, a member of the United Church of Christ, rented out a room at the Leander Public Library after the City of Leander in Texas nixed the Drag Queen Story event due to local opposition.

The event will now be hosted in the conference room at the library on June 15.

According to the event page, the church will select a drag queen to read children books about "how wonderful it is to be unique and special."

Open Cathedral will be paying the fees to rent out the room and the local pastor with members of the church will be there to volunteer.

The church describes itself as a 'progressive' Christian church startup that values community, not conformity, and welcomes members of all sexual orientations, gender identities and gender expressions.

As of press time, nearly 500 people had marked themselves as "going," with 2,000 "interested."

The First United Methodist Church Of Birmingham in Alabama has also decided to make a 'progressive' statement on June 15th.

The church has partnered with the Shout Lesbian, Homosexual, Bisexual, Transgender and Queer Film Festival by hosting a "wedding party" featuring a free screening of the popular "Arthur" cartoon episode surrounding the same-sex "wedding" of Mr. Ratburn after Alabama Public Television said that it would not air the broadcast.

Alabama Public Television director of programming explained the episode ban by saying "Parents have trusted Alabama Public Television for more than 50 years to provide children's programs that entertain, educate and inspire.

More importantly, although we strongly encourage parents to watch television with their children and talk about what they have learned afterwards, parents trust that their children can watch APT without their supervision. We also know that children who are younger than the 'target' audience for Arthur also watch the program."

The real issue at the root of the actions by these churches is not so much the endorsement and promotion of the lesbian, homosexual, bisexual and transgender agenda, as bad as that is, but how one approaches Scripture.

Whether it is abortion, homosexuality, transgenderism or the next issue that society decides is morally acceptable.  Without a belief that Scripture is the Word of God, to be taken literally – each new generation will treat the Bible as a buffet, picking and choosing what is the truth of God and what are simple suggestions.

Oliver Thomas is a retired American Baptist minister and he sums up the misguided views of such 'progressive' churches in his recent USA Today column in which he complains that churches will continue hemorrhaging members and money at an alarming rate until we muster the courage to face the truth: We got it wrong on homosexuals and lesbians.

According to Thomas, "It's difficult to watch good people buy into the sincere but misguided notion that being a faithful Christian means accepting everything the Bible teaches".

Thomas is wrong however as study after study has shown that the dying churches are almost all mainline churches that have veered to the left.  United Methodist, Lutheran, Presbyterian (U.S.A.) and Episcopal churches are all in major decline, while conservative, evangelical churches continue to grow.

The Presbyterian Church U.S.A. declined by 11.6 percent over the previous decade, while the United Methodist Church lost "only" 6.7 percent and the Episcopal Church lost 5.3 percent. The United Church of Christ was abandoned by 14.8 percent of its members, while the American Baptist Churches U.S.A. were reduced by 5.7 percent.

On the other side of the theological divide, the conservative Presbyterian Church in America [PCA] grew 42.4 percent in the same decade that the more liberal Presbyterian denomination lost 11.6 percent of its members. Other conservative denominations experiencing significant growth included the Christian Missionary Alliance (21.8 percent), the Evangelical Free Church (57.2 percent), the Assemblies of God (18.5 percent), and the Southern Baptist Convention (five percent).

Another study found that 93 percent of clergy members and 83 percent of worshipers from growing churches agreed with the statement "Jesus rose from the dead with a real flesh-and-blood body leaving behind an empty tomb." This compared with 67 percent of worshipers and 56 percent of clergy members from declining churches.

Furthermore, all growing church clergy members and 90 percent of their worshipers agreed that "God performs miracles in answer to prayers," compared with 80 percent of worshipers and a mere 44 percent of clergy members from declining churches.

The more a church lacks belief in the inerrancy of the scriptures and, in turn, the essentials of the Christian faith – the quicker it declines. When the church tries to be just a moral social club, it can't compete with the world.  Why attend somewhere that doesn't truly believe the core foundation of its purpose for being?

What we believe will affect how we live and this plays out in church growth as well.

Because of their conservative outlook, the growing church clergy members in the study took Jesus' command to "Go make disciples" literally. Thus, they all held the conviction it's "very important to encourage non-Christians to become Christians," and thus likely put effort into converting non-Christians.

Conversely, because of their liberal leanings, half the clergy members at the declining churches held the opposite conviction, believing it is neither desirable nor necessary to convert non-Christians. Some of them felt, for instance, that promoting their religion outside of their immediate faith community is culturally insensitive.

Progressive liberal Christians have long claimed that the Church must change with the times or it will die. They just get the direction of the change wrong.