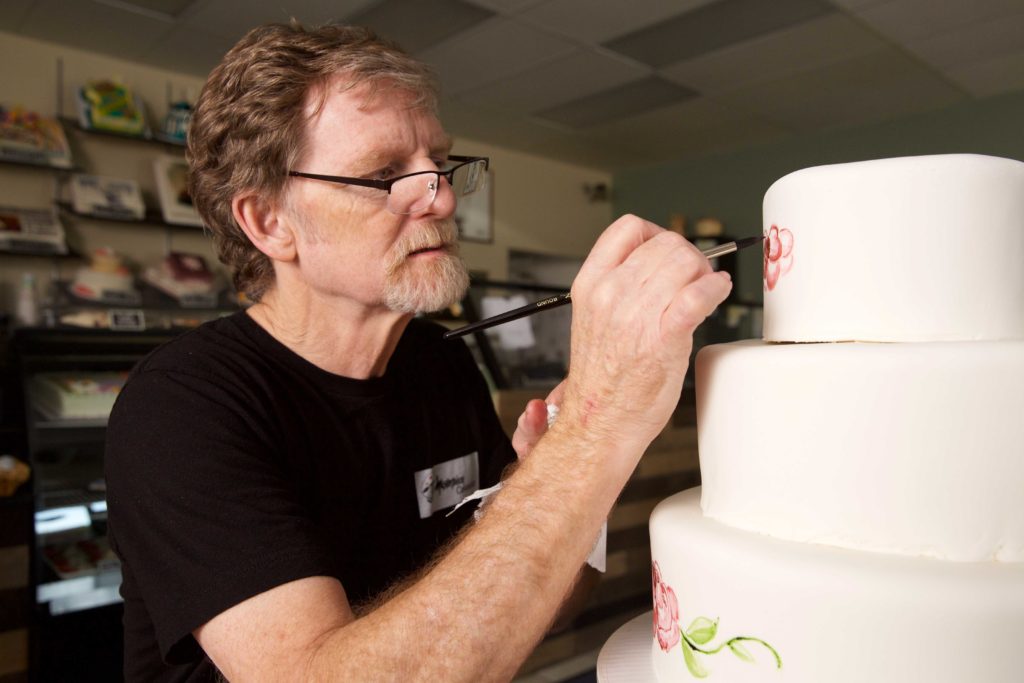 'Transgender' Sues Baker Jack Phillips for Not Making Pink, Blue Cake Celebrating 'Coming Out' on Birthday
Reprinted from: Christian News Network
LAKEWOOD, Colo. — After the State of Colorado dropped its administrative action against Masterpiece Cakeshop owner Jack Phillips for declining to make a pink and blue "birthday cake" celebrating a man's "coming out as transgender," the individual who placed the order for the cake has filed his own legal challenge over the matter.
"A new lawsuit has been filed against Masterpiece Cakeshop that appears to largely rehash old claims. The State of Colorado abandoned similar ones just a few months ago," Alliance Defending Freedom (ADF) Senior Counsel Jim Campbell told Colorado Public Radio. 
"So this latest attack by Autumn Scardina looks like yet another desperate attempt to harass cake artist Jack Phillips," he said. "And it stumbles over the one detail that matters most: Jack serves everyone; he just cannot express all messages through his custom cakes."
As previously reported, in 2017, on the very day that it was announced that the U.S. Supreme Court would hear Phillips' first case surrounding his abstention of an order for a same-sex celebration, a man who identifies as a woman and goes by the name Autumn Scardina called Masterpiece Cakeshop and stated that he wanted to place an order for a custom cake.
Debi Phillips, the wife of Jack Phillips, took the call and asked the man about the desired size of the cake, the requested flavors, and the date by which it would be needed.
"The complainant responded that [he] would need the cake … to serve 6-8 people, and wanted the cake to have a blue exterior and a pink interior," the Colorado Civil Rights Division wrote in a letter. "The complainant asserts that [he] 'explained that the design was a reflection of the fact that [he] transitioned from male to female and that [he] had come out as transgender on [his] birthday.'"
Realizing that the order would entail the creation of a custom cake reflecting the celebration of a so-called gender transition, Phillips advised that the business could not be of assistance. Her husband affirmed that the request could not be fulfilled.
As previously reported, Phillips won't make custom cakes for any customer if the message is problematic. He has turned down cake orders demeaning homosexuals, and similarly refused an order celebrating a divorce. He will also not make cakes that would be racist, use profanity, promote drugs or alcohol, support abortion or euthanasia, or celebrate Satanism or Halloween.
"Phillips will not create such cakes no matter who requests them," it was explained in legal documents. "Phillips believes that he would violate God's commands if he were to create custom cakes that express messages or celebrate events in conflict with his religious beliefs."
The Colorado Civil Rights Division launched administrative action against Phillips over the Scardina matter, and in turn, Phillips filed a federal lawsuit alleging that he was enduring ongoing harassment from the state due to his religious convictions.
In March, the State decided to drop its action, and while it was not known why, Phillips' attorneys said in a statement that they had been "finding more and more evidence of the State's hostility toward Jack's faith and to religious freedom in general, and as a result of that, we were able to press forward, and for whatever reason, the State decided to back down." Phillips agreed to consequently drop his suit as a result.
Now, the complainant has decided to file legal action against Phillips by himself. Attorney Paula Greisen, who is representing Scardina (who is reportedly also an attorney), told Colorado Public Radio that "[b]y filing separately, we are taking the state out of the equation."
The lawsuit angles the complaint as being a situation where Scardina simply requested a birthday cake, but was denied one because of who he is. It claims that Phillips is lying about having no problem making birthday cakes for those who identify as lesbian, homosexual, bisexual and transgender.
"Phillips, speaking on behalf of himself and Masterpiece Cakeshop, told a reporter for Westword that the bakery is happy to supply lesbian, homosexual, bisexual and transgender customers with 'birthday cakes and graduation cakes and everything else,'" it states. "Indeed, the United States Supreme Court cited to Defendants' claimed willingness to create birthday cakes for lesbian, homosexual, bisexual and transgender individuals in issuing its order."
"Masterpiece Cakeshop and Mr. Phillips knowingly advertised their goods and services with the intent not to sell them as advertised to certain members of the public, namely the lesbian, homosexual, bisexual and transgender community," it claims.
"Masterpiece Cakeshop and Phillips also use 'bait and switch' advertising by publicly advertising that they would sell baked goods, including birthday cakes, to the general public, including the lesbian, homosexual, bisexual and transgender community, but then refused to sell those goods and provide those services to Autumn Scardina because of her status as a transgender woman."
The complaint alleges that as "Masterpiece Cakeshop stated that they did not make cakes for 'sex changes,' … Scardina explained to Masterpiece Cakeshop that the cake was for her birthday celebration and not a 'sex change' celebration."
However, correspondence to Phillips from the State outlined that Scardina had "explained that the design was a reflection of the fact that [he] transitioned from male to female and that [he] had come out as transgender on [his] birthday." It was not a general or normative birthday cake, which Phillips would have otherwise sold to Scardina.
Read the lawsuit in full here. 
Proverbs 24:8 reads, "He that deviseth to do evil shall be called a mischievous person."
Psalm 21:11 similarly states, "For they intended evil against thee. They imagined a mischievous device, which they are not able to perform."